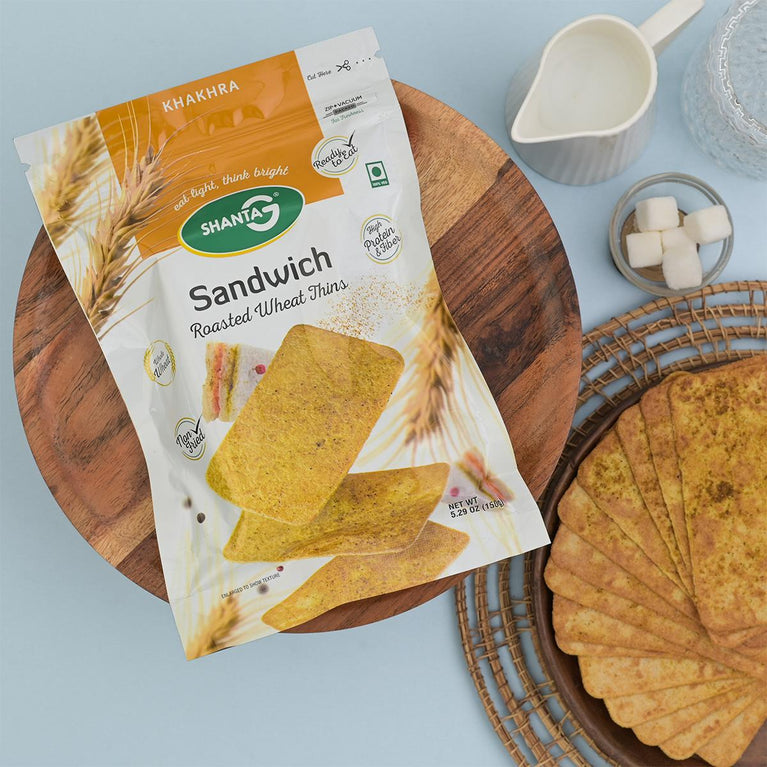 Description:
Tomatoes, cucumber, potato, onion, sauces, chutneys, and cheese-filled between two pieces of bread…… Yummmmmm. But it is too much work, isn't it? Don't worry because of this sandwich khakhra. Now you don't have to cut all these vegetables and make all the sauces just clutch the sandwich khakhra and enjoy.
Medicate Value:
It contains black pepper which helps in improving cholesterol levels.

It contains dry ginger which helps in improving digestion.

It contains cinnamon which is filled with antioxidants.
Ingredients:
Whole Wheat Flour (79%),Edible Vegetable Oil(Palmolein)(16%), Iodized Salt,Rock Salt, Black Pepper, Turmeric Powder, Dry Ginger, Cinnamon, Bitallaban, Dry Mango, Coriander.
Contains:
Wheat
Ideal Dry Snack
For Breakfast
While Travelling
Perfect Munchin With
Hot Beverages
Cold Beverages
Tastes Good With
Pickles
Butter, Yogurt & Honey