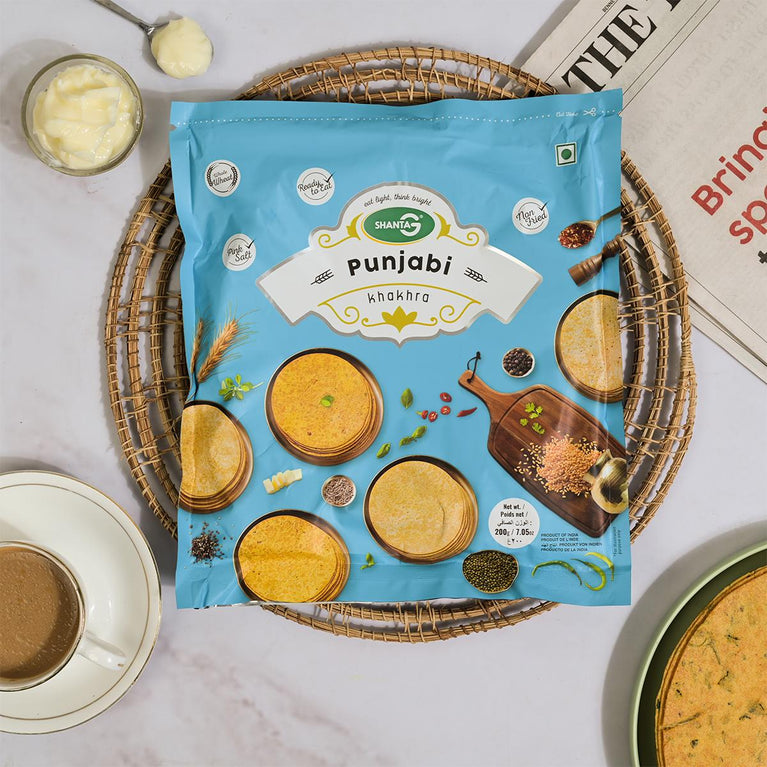 Description:
Punjabi food is a combination of spices and lots of tadka. Punjabi food means sarso da saag, Makki di roti and it also means a lot of butter and lots and lots of different spices. Also when you think of Punjabi food Tandoor, Naan, Aloo Paratha and other things name pops-up. This khakhra will remind you of all those things in just one and you will have a blissful taste of Punjabi food in a khakhra.
Medicate Value:
It contains mint leaves which helps in easing digestion.

It contains asafoetida which helps in curing many allergies.

It contains black salt which treats acidity.
Ingredients:
Whole Wheat Flour (Atta) (79%), Edible Vegetable Oil (Palmolein)(16%), Iodized Salt, Rock Salt, Dry Mango, Mint Leaves, Black Salt, Red Chilli Powder, Coriander, Black Pepper, Cumin, Dry Ginger, Compounded Asafoetida.
Contains:
Wheat
Ideal Dry Snack
For Breakfast
While Travelling
Perfect Munchin With
Hot Beverages
Cold Beverages
Tastes Good With
Pickles
Butter, Yogurt & Honey