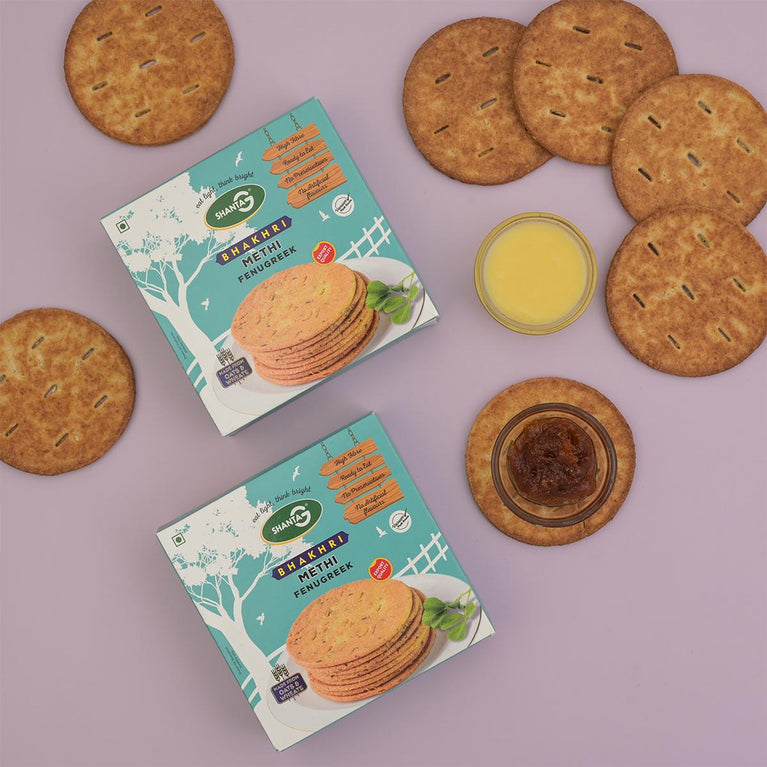 Description:
Methi is commonly used in flavoring Indian curries. The leaves from the plant are used in salads and in many ways while cooking Indian food. Methi has a strong aroma which helps make the dishes smell good. Methi khakhra is delicious yet very beneficial in terms of its medicate value. In Gujarat, Methi is mostly used for making thepla which is a common snack here and tastes good with pickle. You can have the taste of it by eating this khakhra and adding pickles on the side.
Medicate Value:
Methi helps in lowering cholesterol levels.

Methi assists to balance your sugar level, especially for diabetic patients.

Methi also benefits in asthma.

Methi aids in improving digestion.
Ingredients:
Whole Wheat Flour (Atta) (76%), Edible Vegetable Oil (Palmolein)(17%),Oats Flour (7%), Iodized Salt,Fenugreek Leaves,Red chilli Powder, Turmeric Powder. CONTAINS: WHEAT
Contains:
Wheat, Oats
Ideal Dry Snack
For Breakfast
While Travelling
Perfect Munchin With
Hot Beverages
Cold Beverages
Tastes Good With
Pickles
Butter, Yogurt & Honey