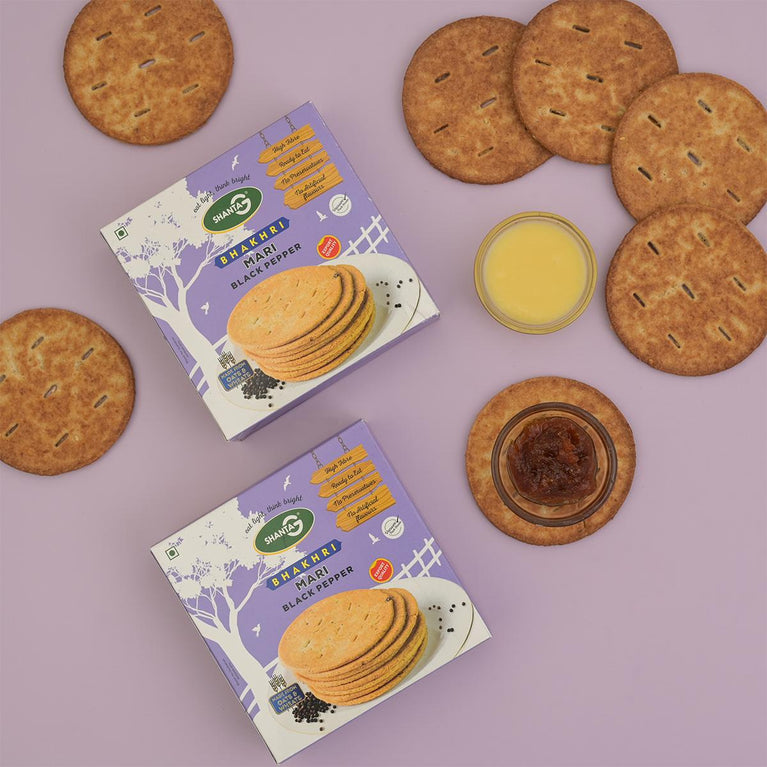 Description:
Mari means Black pepper. Black pepper instantly adds taste to a plain boring dish. Mari helps to bring out the taste of any dish then why not bhakhri. Mari adds a nice flavor to the bhakhri and leaves your tongue with flavor and you will end up eating more or wanting more Mari Bhakhri.
Medicate Value:
Black pepper helps in improving cholesterol levels.

It is high in antioxidants.

It benefits our brain.

It can help in improving blood cholesterol.
Ingredients:
Whole Wheat Flour (Atta) (71%), Edible Vegetable Oil (Palmolein)(17%),Oats Flour (8%), Iodized Salt,Black Pepper.
Contains:
Wheat, Oats
Ideal Dry Snack
For Breakfast
While Travelling
Perfect Munchin With
Hot Beverages
Cold Beverages
Tastes Good With
Pickles
Butter, Yogurt & Honey