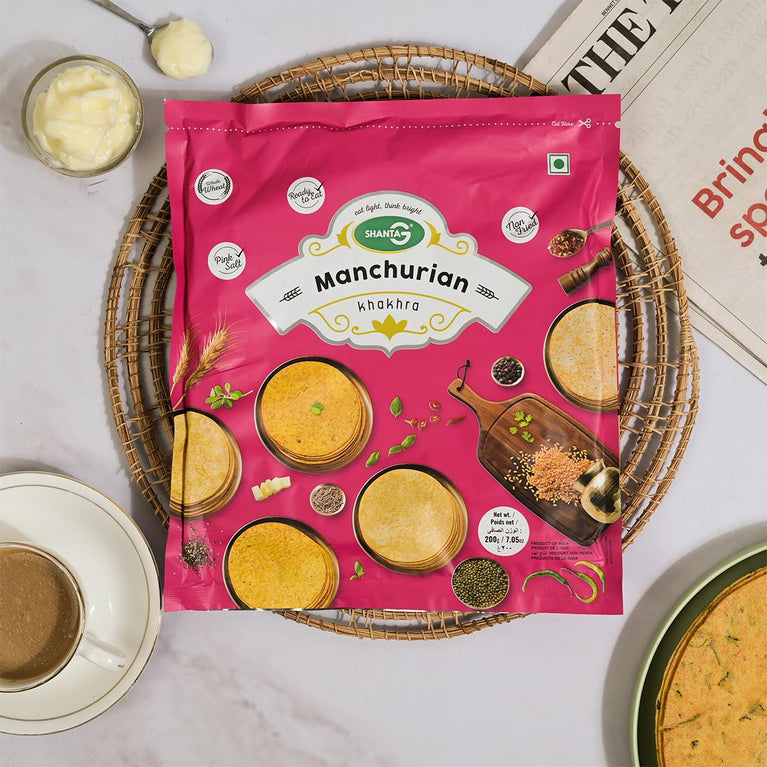 Description:
Manchurian tastes best when they are eaten from a local street food maker, else they just taste like marinated cauliflower or other veggies which just doesn't taste good. Well while making the Manchurian khakhra we made sure to get that street food taste but the quality of the high-end restaurant. From now on no 'Bhaiya ek plate Manchurian pack kardo' just 'Bhaiya Manchurian khakhra dena'.
Medicate Value:
It contains garlic powder which helps in balancing heart rate.

It contains onion powder which helps in boosting bone density.
Ingredients:
Whole Wheat Flour (Atta) (81%), Edible Vegetable Oil (Palmolein)(14%), Iodized Salt, Maltodextrin, Corn starch, Mixed Spices & Condiments, Dehydrate Vegetable Powder, Onion Powder, Garlic Powder.
Contains:
Wheat
Ideal Dry Snack
For Breakfast
While Travelling
Perfect Munchin With
Hot Beverages
Cold Beverages
Tastes Good With
Pickles
Butter, Yogurt & Honey