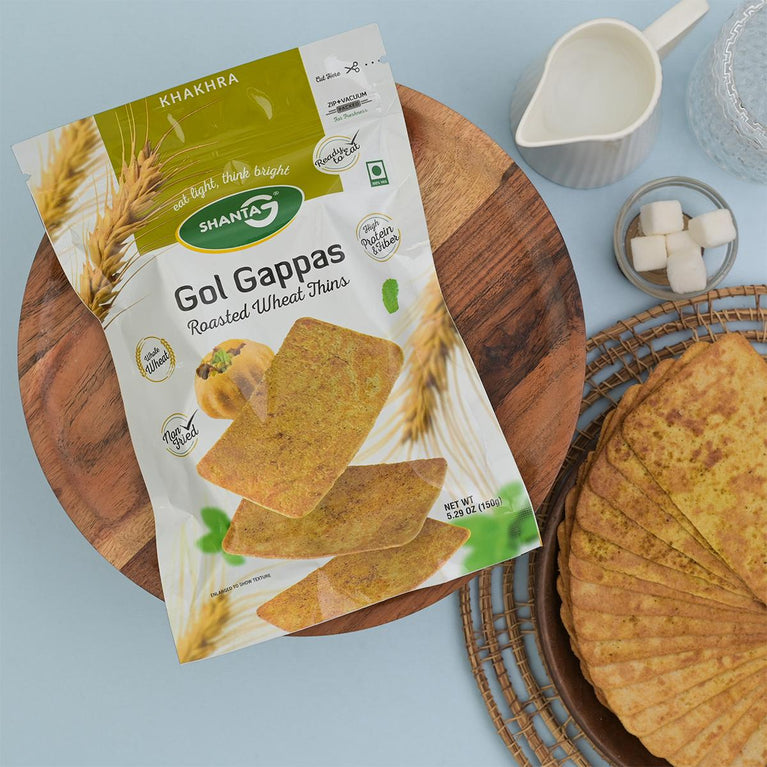 Description:
Gol Gappa is the most liked street food in India. It is known by various names in India like Phuchka, Pani Puri, Pani ke Bataashe and many others. This appetizing khakhra comes with a strong flavor of Mango powder and Pudina leaves. The taste is very refreshing and flavourful. Everyone loves Gol Gappa on the street or at home because it leaves that tingling flavor in your mouth. Now no more waiting for Pani Puri vale Bhaiya to give us Gol Gappa just grab the Gol Gappa flavored khakhra and munch on it.
Medicate Value:
It is stated that Gol Gappa also helps in curing mouth ulcers.

Gol Gappa can also cure acidity.

Gol Gappa also contains protein, carbohydrates, fibers, and vitamins.

Gol Gappa helps in reducing anxiety.
Ingredients:
Wheat Flour (79%),Edible Oil, Iodized Salt, Dry Mango Powder, Black SaltPudina Leaves (Mint), Green Chilli, Cumin Black Pepper, Ginger Powder, Citric Acid
Contains:
Wheat
Ideal Dry Snack
For Breakfast
While Travelling
Perfect Munchin With
Hot Beverages
Cold Beverages
Tastes Good With
Pickles
Butter, Yogurt & Honey