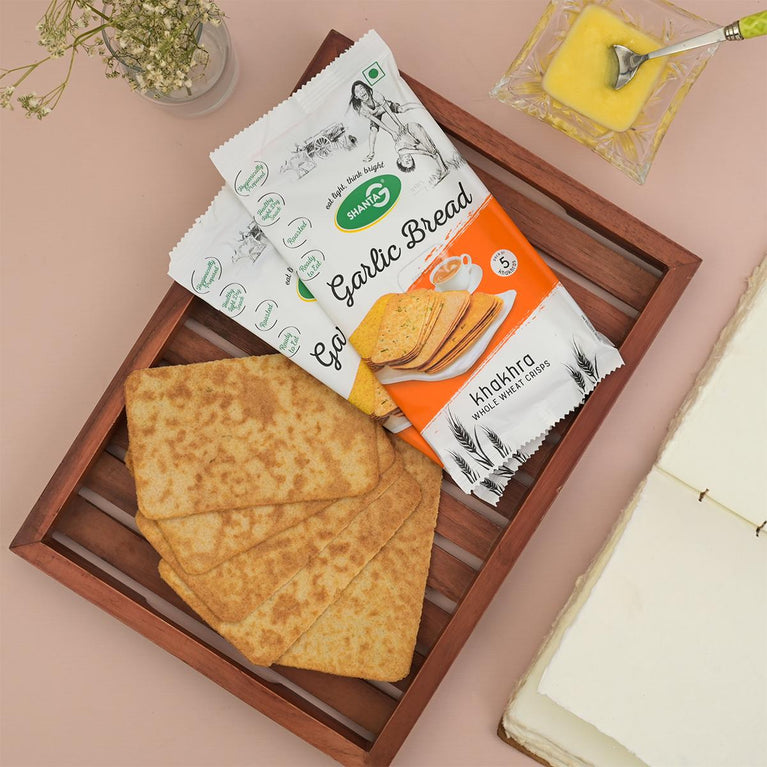 Description:
Garlic bread is a bread-based food item in which the bread is flavored with garlic and butter, oil or cheese and then additional herbs are added. Garlic Bread is roasted, cooked in a frypan or is grilled or toasted. But these Garlic bread wheat crisps are made in specialized machines for getting the perfect quality and taste. This garlic bread wheat thins are healthier than the garlic bread. Eat them and don't worry about eating too much.
Medicate Value:
Garlic is nutritious and contains very important minerals.

Garlic has very few calories.

Garlic helps in curing a normal cold.

Garlic can help in reducing blood pressure.
Ingredients:
Whole Wheat Flour (Atta) (72%), Edible Vegetable Oil (Palmolein) (14%),Butter Garlic Powder, Cheese Powder, Iodized Salt, Black Pepper Powder, Onion Powder, Oregano, Green chilli.
Contains:
Wheat
Ideal Dry Snack
For Breakfast
While Travelling
Perfect Munchin With
Hot Beverages
Cold Beverages
Tastes Good With
Pickles
Butter, Yogurt & Honey