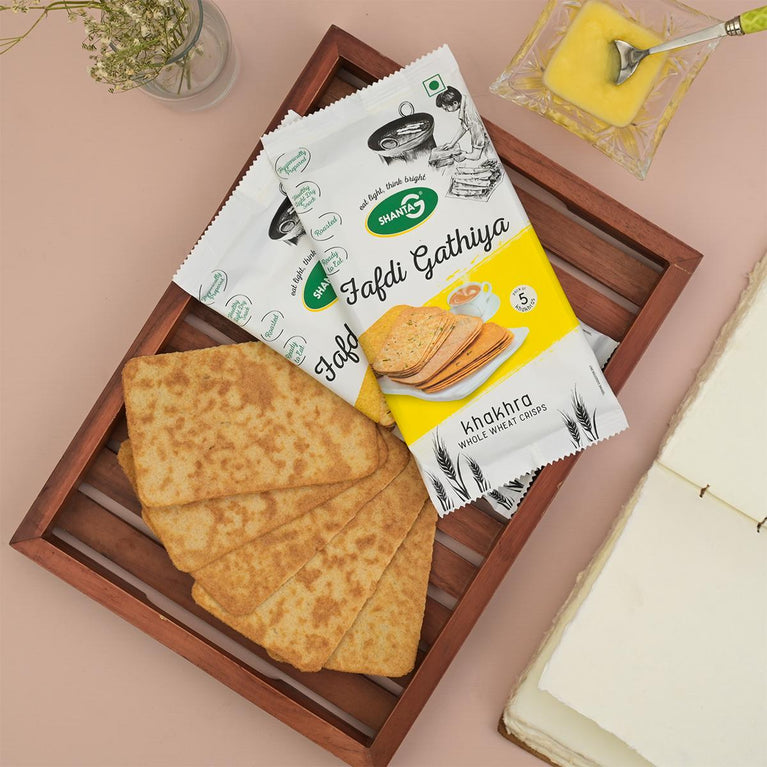 Description:
Fafda and Gathiya are the 'Jaan' of Gujarati snacks. Mornings are spent eating Fafda or Gathiya in a Gujarati house and in almost every house on Sundays. They are the perfect snack to start your day with. But they can't be found everywhere or anytime but these Fafdi Gathiya wheat thins can be available anytime anywhere, just put them in your pockets and when you crave Fafda or Gathiya just take one out from your pocket.
Medicate Value:
It contains black pepper which helps in improving cholesterol levels.

It contains Carom seeds which help in reducing blood pressure.

It contains turmeric powder which helps in reducing depression.
Ingredients:
Whole Wheat Flour (Atta) (40%), Edible Vegetable Oil (Palmolein) (16%), Iodized Salt, Black Pepper,Carom Seeds, Turmeric Powder.
Contains:
Wheat
Ideal Dry Snack
For Breakfast
While Travelling
Perfect Munchin With
Hot Beverages
Cold Beverages
Tastes Good With
Pickles
Butter, Yogurt & Honey