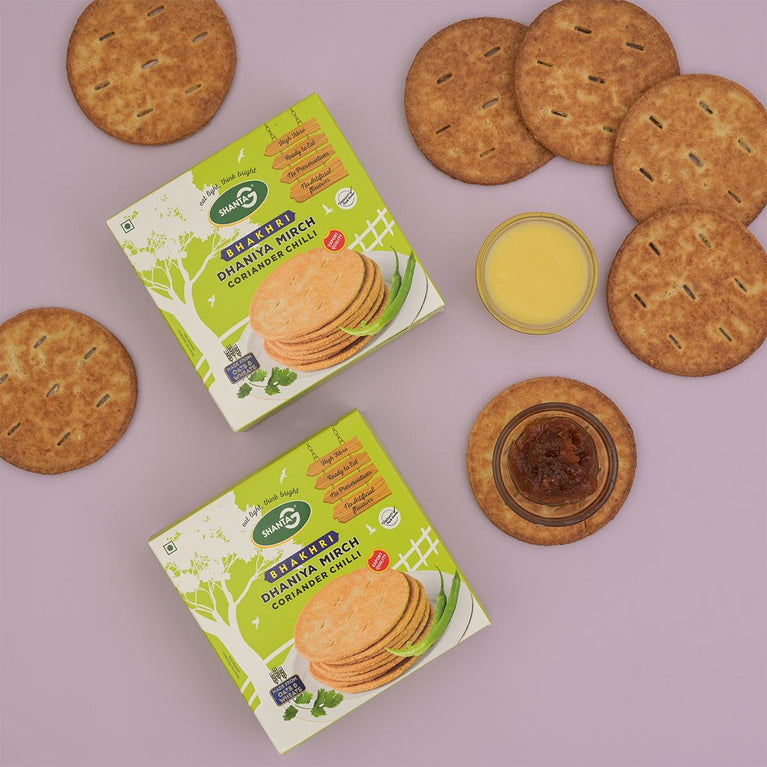 Description:
When you go shopping for vegetables you always say 'Bhaiya thodi Dhaniya Mirchi bhi dal dena'. And, you always used Dhaniya Mirchi in just making veggies but never thought of adding it in bhakhri. Well, we did think of it and it turned out so good it is one of the flavors of our Bhakhri. The refreshing taste of Dhaniya and a hit of Mirchi's spiciness.
Medicate Value:
Mirchi is packed with antioxidants.

Mirchi also helps with ulcer.

Dhaniya help lower your blood pressure.

Dhaniya helps in boosting immune.
Ingredients:
Whole Wheat Flour (Atta) (70%), Edible Vegetable Oil (Palmolein)(17%),Oats Flour (8%), Iodized Salt, Ginger, Coriander Leaves, Green Chilli.
Contains:
Wheat, Oats
Ideal Dry Snack
For Breakfast
While Travelling
Perfect Munchin With
Hot Beverages
Cold Beverages
Tastes Good With
Pickles
Butter, Yogurt & Honey