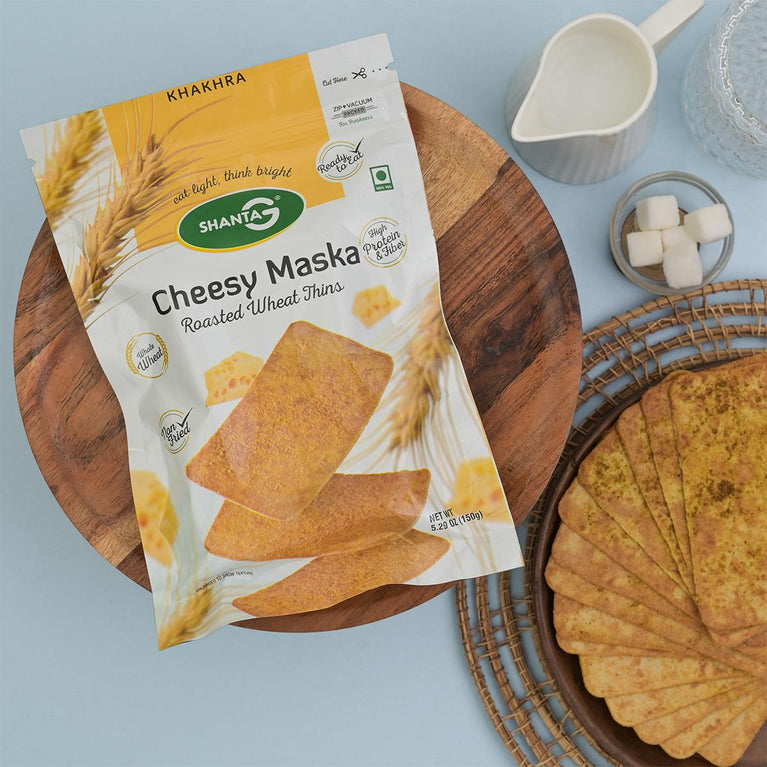 Description:
Cheese is farm produce, derived from milk product that is offered in a wide range of flavors, textures, and is made by thickening of the milk. Cheese has grown famous in a really small period among the youngsters. Now, nearly every dish has a Cheese version of it in the market. Cheese is in every form of food nowadays, Cheese dosa, Cheese vada pav, Cheese Sandwich, Cheese Paratha you name it and that dish will have a version of it. So, if there are so many things in a Cheese version of it why not have a cheese flavored Wheat Thins Khakhra. This Wheat Thins Khakhra will give you the cheesy taste that will woo your taste buds and still be healthy.
Medicate Value:
Cheese is made with milk which is a high resource of calcium.

It contains a large amount of vitamin A.

Cheese also has B-12 in it.
Ingredients:
Wheat Flour (79%),Edible Oil, Iodized Salt,Citric Acid, Annatto Extract, Sugar, Maltodextrin, Permitted Natural Colors & Added Flavors.
Contains:
Wheat
Ideal Dry Snack
For Breakfast
While Travelling
Perfect Munchin With
Hot Beverages
Cold Beverages
Tastes Good With
Pickles
Butter, Yogurt & Honey